When I first started homeschooling there were not a lot of options as far as curriculum. Don't get me wrong, it was better when I started that it was back in the early 80's when you had only the big curriculum publishers who sold to private schools and you had to jump through hoops to get it. There were more choices when I started but not to the degree there are today.
Take
Writeshop
for instance. They have some wonderful stuff! I reviewed their
Story Starters
earlier in the year and more recently I was given the opportunity to review their Primary materials.
I am an eclectic homeschooler. I love the idea of getting a little of this from here and a little of that from there. I prefer to buy a writing curriculum from a publisher, preferably someone aimed at the homeschool market specifically, who publishes mostly stuff on writing or Language arts. It just makes sense. You don't buy a washing machine from a car manufacturer.
Back to WriteShop. I really like what they sent me. WriteShop Primary Book A (B & C are in the works) is geared towards the K - 3rd grades. It is very gentle and relational which I LOVE. It is simple and specific. It eases you into writing with your early learner.
When I went through the book I liked how it was incremental and simple. I remember when I first started homeschooling and I would open the box of curriculum and look over the teacher's manual then cry and then call the local public school and ask when I could bring my child. Okay, not really, but so much of the curriculum was overwhelming at first. WriteShop Primary A is not overwhelming. You can open it up, read the first few pages, grab your student, a piece of paper and a pencil and start. It's that easy.
There are print versions (which I prefer) or e versions which have their benefits; immediate access and no shipping fees chief among them.
You can go
here
to see samples and
here
for pricing.
To those of you just starting out in this homeschooling adventure with your littles…you have it made!
You can click on the icon below to see what other Crew members had to say.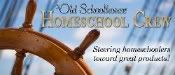 Happy Homeschooling!