I was given the opportunity to review Aleks last year. You can see that review
here
.
There were many things I liked about Aleks, most of which included my children doing math without me. I love it when my children can do math without me.
The people at Aleks asked me to go back and review Aleks again, paying special attention to the things they've changed or updated.
One of the things they've improved is that now you can give your student a quiz whenever you want. A Pop quiz I believe they were called back in my day. Before you could only have your students take a complete assessment, which took quite a bit of time and was sometimes, really more than I was after. It is nice to pop over the quiz page and choose which specific topics you'd like your student to be quizzed on.
The other thing they've updated is the Master account. I really don't remember the Master Account being a problem before, but I do like they way they've updated it. Everything is right there, at your fingertips to help you keep ut with your student's progress.
The pricing structure for Aleks is as follows… You can buy a monthly subscription for $19.95, a 6-month subscription for $99.95, or a 12-month subscription for $179.95.
You can also click on the little button above and try out Aleks for 1 month for free. You can click on the TOS button below that to see what others had to say about Aleks.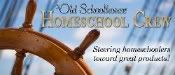 Happy Homeschooling!