I think I should include some sort of rating system with the highest rating being 'I could barely do the review because my children kept running off with the product'. That was the case with the study pod.
When it came in the mail they were unimpressed at first. It's just a little unassuming black book shaped plastic thing. Ho-Humm.
But then I showed them what it was and what it did. Okay, in the interest of full disclosure my dyslexic and amazingly spatial son Bob, glanced at the pictures on the box and had it open and a book sitting in it before I could find the clasp. That kid is amazing!
Once the kids realized what it was, it has been completely unavailable for me to use.
So far it has been used in the following ways…
~ Will, the College Student, realized it will hold up his floppy, think, cumbersome Anatomy book while he is studying.
~ Eve learned it will double as an easel for her art canvas
~ Ann learned it will hold up her Daring Book For Girls, so she can look at the pictures and practice Karate moves. (I can't tell you how much I wish I had my camera with me when I saw her doing that!)
~ I learned it will neatly hold up a single piece of paper with a recipe on it, without it flopping over, while I'm cooking.
~ Bob learned it's very sturdy and if you try to place several textbooks on it to see how many it will hold and it falls off the table and crashes onto the floor, it will survive no worse for wear.
~ Bob also learned it will hold up the diagram to the lawn mower engine so he can look at the pictures without getting grease on everything.
You can watch this video to see the way it was intended to be used.
You can go
here
to check it out and see the prices.
And, as always, you can click on the picture below to see what other Crew Members had to say.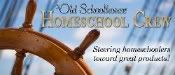 Happy Homeschooling!