To call
Nutrition 101: Choose Life
, published by
Growing Healthy Homes
, a health curriculum seems incomplete. It is more of a science curriculum. This baby is thorough!
The following 6 units are included in this 448 page book:
1) The Brain and Nervous System
2) Digestion and Elimination
3) Respiration and Olfactory
4) Muscular and Skeletal Systems
5) Cardiovascular and Immune Systems
6) Endocrine System and Emotions.
We barely scratched the surface of what this book holds. We did the Muscular and Skeletal System since it seemed appropriate right about now with what's going on in our house...
To a homeschooler, everything's a lesson, right?
We read over the lesson and discussed the discussion questions together. Easy. But the pictures and fun facts included make in very engaging.
We then went to the 'Activities' section and choose an activity to do. The girls decided to look up the skeleton online and found some really cool X-Ray photos. (be careful here, parents. As you know Google can be your friend but also your enemy!)
We also read several of the scriptures the curriculum pointed us to about bones.
Buy the time my Eve (pictured above) was ready get her cast on, she knew a lot of information about the bones and the skeletal system and was able to tell the Orthopedic Dr some of what she knew. (I think he was duly impressed so score one for homeschoolers!)
All in all, this is a very good curriculum. It could easily be used for an entire family, for a year's worth of health/science.
Personally, I am still having a hard time with all the E-Books and would LOVE to own this in hardback. If you have it in your budget, I'd get the print version. I think for my family, we'll probably take it to Kinko's and get it printed out.
You can go here to find out more about
Nutrition 101: Choose Life
.
As always, you can click on the TOS Crew icon below and see what other crew members had to say.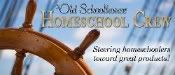 Happy Homeschooling!