Christian Keyboarding
is an e book that can be downloaded instantly. When I downloaded this program, I had a little flashback to my own high school days sitting in front of the typewriter tiping i i i over and over, in unison with the rest of the class.
I haven't seen a program like this since the advent of the personal computer. My own children have done many different cdrom programs and all of them can type quite well.
It never occurred to me to try something like this. At first, I did not see the benefit of it, but after having one of my children use this program, I can see a skill that is missing from the cdrom's. Transferring from paper to computer, or copying. I think my kids picked this up eventually, but as my youngest struggled a bit, I realized this area needs some practice.
I think this program has some merit. There is more than one way to skin a cat, as they say.
This program has 32 lessons that take around 10 to 20 minutes to complete, depending on your speed.
Here is a copy of the table of contents…
Touch Typing Technique ................. 8
Lessons 1-20 Alphabetic Keys ........... 9-48
Lessons 21-25 Numbers and Symbol Keys... 49-58
Lessons 26-29 Number Pad................ 59-66
Lesson 30 Centering..................... 67-71
Lesson 31 Enumerated Lists.............. 72-74
Lesson 32 Timed Writings................ 75-83
Timing Scale............................ 84
Index................................... 85-87
I also appreciate how the times writings are Psalms. If they've got to type something they might as well type scripture.
You can check out Keyboarding for the Christian Schools Elementary Version and Keyboarding for Christian Schools Grade 6 and up
here
.
You can go
here
to see all the things Keyboarding offers and you can click on the icon below to see what other Crew Members had to say about Keyboarding.
Happy Homeschooling!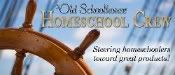 By the way Keyboarding is currently offering a sale. Here are details from their site.
Need a Coupon to start the year right? Type NewYear5 in the Discount Code section for $5 off of your purchase of $12.95 or more available until February 28, 2010!

2010 NEW YEAR SPECIAL: Purchase both the Keyboarding for the Christian School, Revised Edition and the Elementary Edition for only $22! Yes, this is a big savings! So, purchase your e-books now for only $22 for both typing books!