I have two dyslexic children. Both have been through the Scottish Rite Dyslexia Lab School. This is a two year program that uses a very phonetic based Orton-Gillingham style approach to dyslexia remediation. Unfortunately, not everyone lives in Texas to be able to take their child to Scottish Rite, and not all children with reading difficulties are dyslexic.
I was sent 5 minutes to Better Reading by Bonnie Terry Learning to review. This program is very similar to one of the things my children did at Scottish Rite called Rate. It is a very specific set of words that the children practice until they reach a certain level of fluency.
It's not the most interesting thing in the world, but I can tell you, it works. Bonnie Terry has done a very good job if taking this idea and simplifying and streamlining it for the parent to be able to do at home. She has very specific instructions, easily laid out so that you can use this program, (in just 5 minutes a day!) to help your struggling reader gain fluency.
You can go
here
to read more about this specific program, and
here
to the Bonnie Terry site to see her various other programs for struggling learners.
As always, you can click on the icon below to see what other mothers had to say about Bonnie Terry Learning products.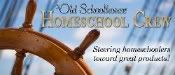 Happy Homeschooling!