I heard about
Nature Friends Magazine
about a year ago on a homeschooling website I frequent. At the time I was looking for a good gift idea for my daughter Eve who was turning 11. Her Grandma had asked for something she could get her that would be easy to ship. Well what's easier than a Magazine subscription?
I was a little hesitant because let's face it, science type magazines for kids are tricky. It seems either they are secular and have to be closely monitored, lest my children are taught we crawled out of the ocean, or they are Christian in nature and low budget with disappointing content. I wish it were not so, but in our experience it seems you get either/or.
I was pleasantly surprised. Eve liked these magazines so much that she has saved each and every one. The rest of the family has to practically check them out to get to see them. I have been meaning all year to do a post about them because we have enjoyed them so much, but did not get around to it.
Well, much to our sadness, her subscription expired in July and her grandma did not renew it. Sadly, money's a little tight right now, so we didn't either.
I was pleasantly surprised to find Nature Friends among the TOS Crew vendors this year! YIPPEE! The timing was perfect. We were able to get Aug and September's magazine! And they've added a study guide to it!
I am so pleased with the study guide. I think, with the use of the study guide, you could use this mag as the basis for your science curriculum for the elementary years. At minimum it would be an excellent supplement to a textbook curriculum, if you're a textbookie type.
You can go
here
to see some samples of the magazine online, or you can order a sample copy for $5.
I was surprised at the quality of the paper; it's quite thick and easy for the little hands to turn the pages. All of the magazines we've gotten over the last year are still perfectly in tact with no rips or tears. Of course, like I mentioned, my daughter treats them with great reverence.
The photography in this publication is also noteworthy. They have a tab on their site just for the nature photography. The photos are amazing! I just recently found this and my kids have spent hours looking up various birds to see what the look like.
The prices for Nature Friends Magazine are as follows:
1 year subscription - $36.00
2 year subscription - $68.00
The Study guides are added on for $2 an issue.
Personally, I like what the study guides had to offer. If you're going to use this as the basis for your science curriculum I think it a worthy investment, but if money is tight, the magazine is magnificent even without the study guide.
I give this magazine an A+! I am sad we're going to miss a few issues, but I suspect this magazine will reappear at this house shortly after Christmas.
You can click on the icon below to see what others had to say about Nature Friends Magazine.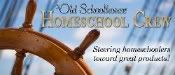 Happy Homeschooling!